Faith in Judaism dates back more than 2,000 years when Jews were in the throes of bondage in Egypt, extending throughout the period after the exodus and their biblical and historical struggles in the wilderness where God had revealed His supernatural power and abiding love for those whose ultimate settlement in a strange land was already a foregone conclusion. It was the implicit faith of the Jews that had caused them to overcome the evil intentions of adversaries within their own ranks and beyond. It helped them to survive under the leadership of Moses and Aaron whose contribution to law and order, under chaotic circumstances, paved the way toward the achievement of ultimate nationhood.
Moses and the 10 Commandments
Prior to the Ten Commandments, totems and taboos that were linked to the worship of a myriad of deities were most prevalent. The Ten Commandments that Moses had brought down from the mountain, initiated the beginning of the opening of new vistas of unshakeable faith and hope on which the foundation of Judaism was established.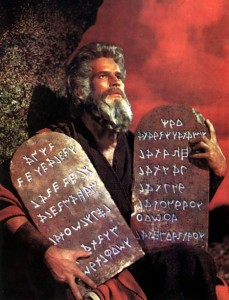 One might arrive at the conclusion that, had it not been for the desperate need of the Jews to free themselves from the harsh and rigid experiences of life in the wilderness, they might have lingered in the throes of their misery, particularly when they were embroiled in disputes within their own ranks, as evidenced in the persons of Korah and his henchmen. A series of divine miracles, as a revelation of God's love affair with the Jews, had already signaled the unfolding of yet another miracle that evolved in the way of victory over the Canaanites, together with all that ensued in the aftermath of their success.
Unsurpassed Glory of the Jewish People
At this time, the glory of the Jewish people remained unsurpassed, when prophets, through faith and trust in God, had so illustriously distinguished themselves, while kings indulged in both virtuous and blasphemous acts. The divinely-designed building of "Beth Hamikdash," (The House of the Holy) served to reinforce Judaism until the regrettable decline of morality that had given way to the unfortunate penetrat
ion of the fortress of Israel's glory by Romans and those that had once envied Israel's prowess, leading to the destruction of the once faith-based edifice of "Beth Hamikdash," and the eventual subjugation of the Jews, in the wake of successive conquests by their surrounding enemies.
Jews have not abandoned their hope to return
In spite of the tragedy, and notwithstanding centuries of separation from their God-given land, the Jews have not abandoned their hope to return. Faith in Judaism and the survival of the Jewish state continue to remain unshaken by violence. Descendants of conquerors, such as the Palestinians, could not deny the birthright of the Jewish people. The return to their erstwhile status could only be calculated in terms of the fulfillment of a divine promise, propelled by adherence of faith in a religion that has contributed so much to civilization.